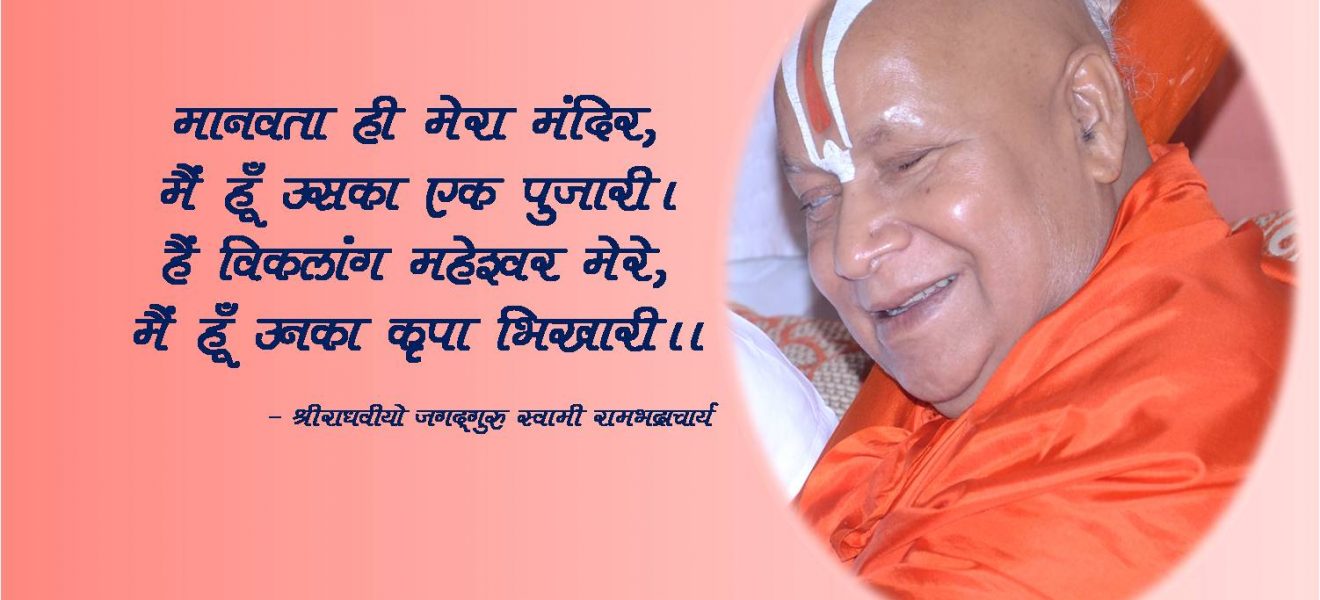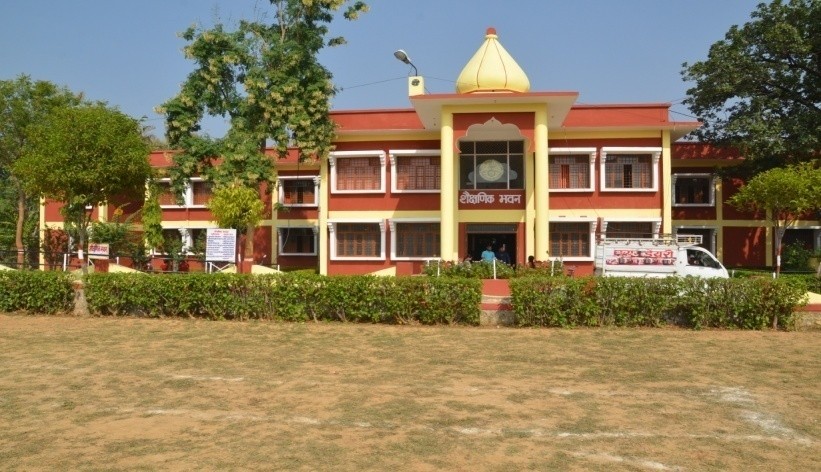 WELCOME TO JRDU
The Jagadguru Rambhadracharya Divyanga University was established to provide higher & professional education to persons with disabilities.        …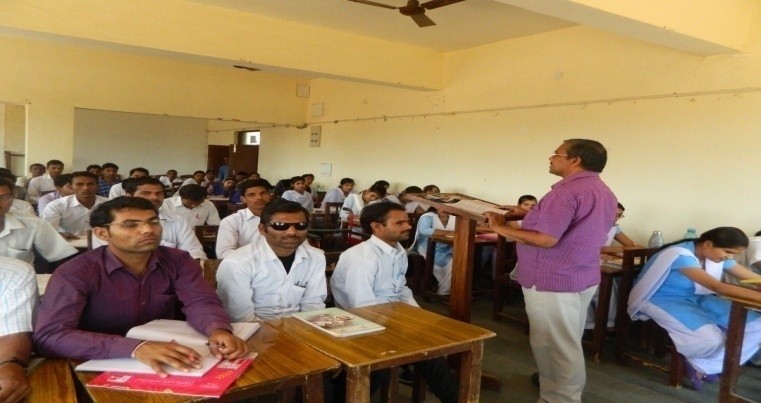 YOUR BRIGHT FUTURE IS OUR MISSION
To ensure greater participation of disabled in higher & professional education by providing disabled friendly campus, class rooms…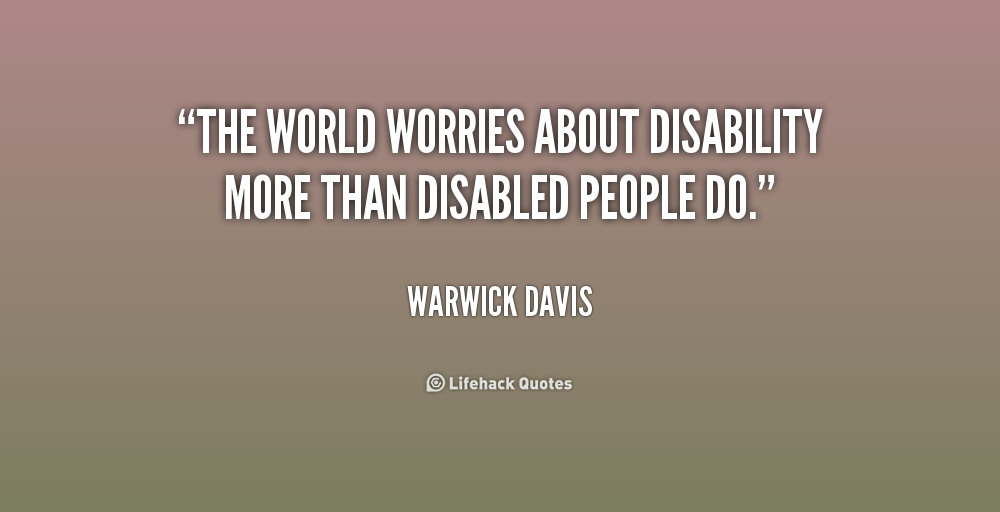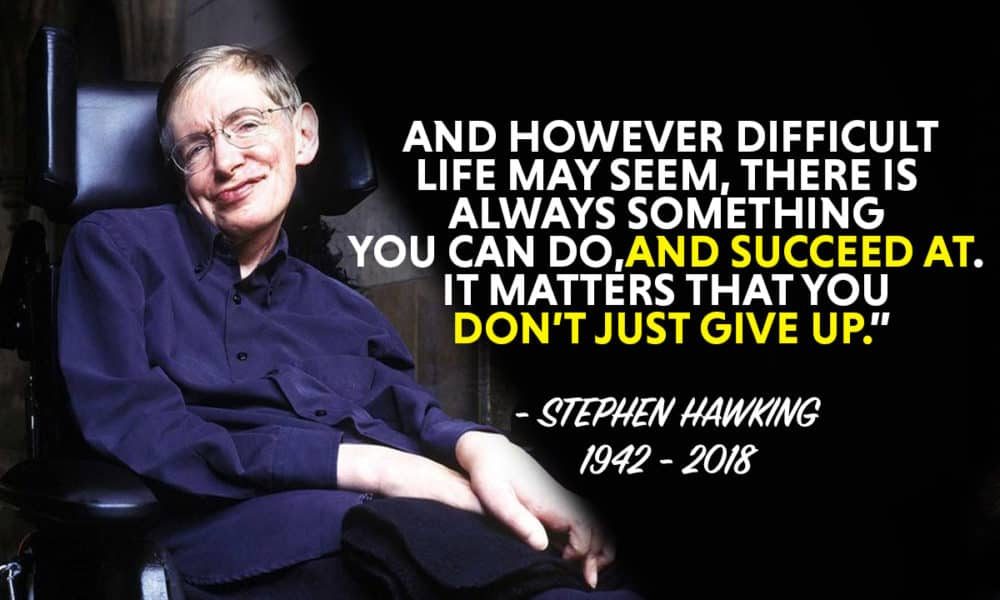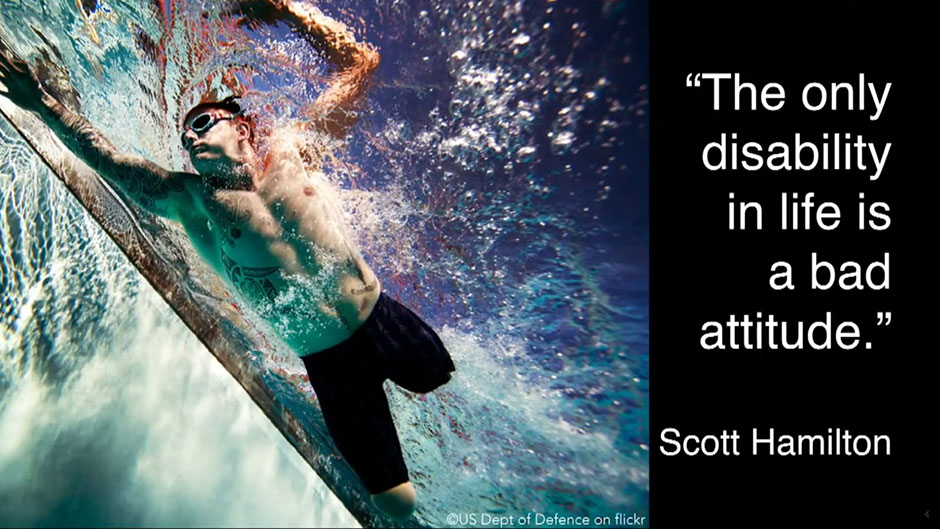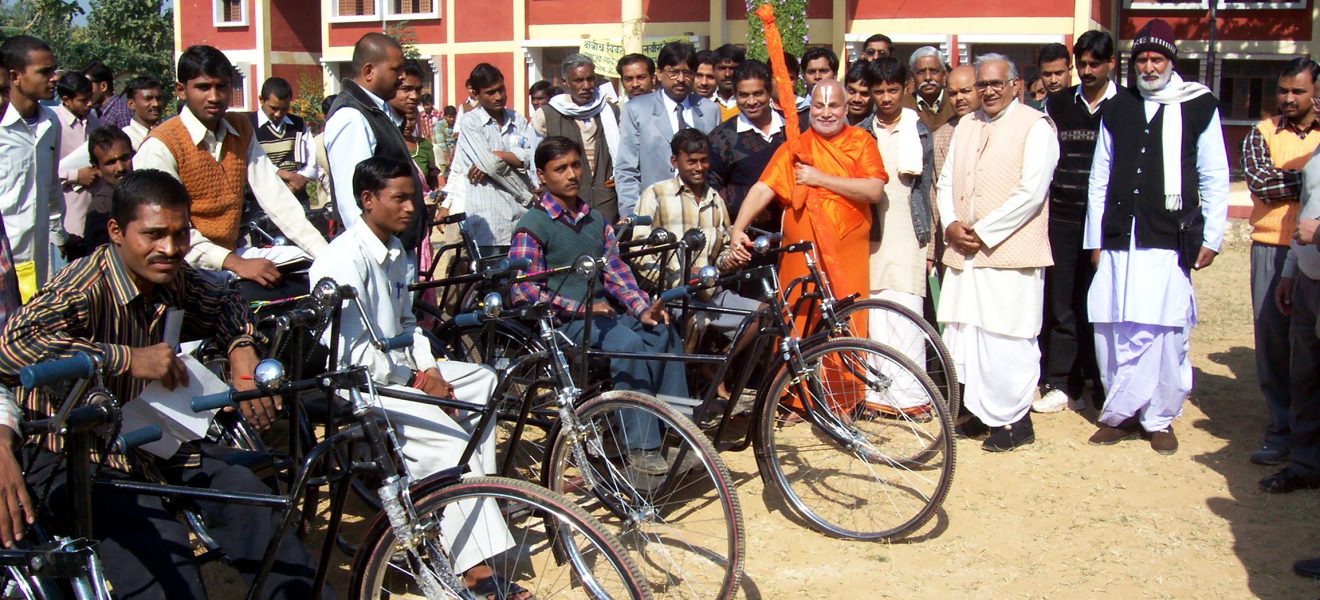 JRDU provides 26 courses in different departments in fields of Languages , Sociology, Music, Psychology, Arts, History, Computers…
JRDU provides facilities for academic and all round development of the students. Facilities for sports activities keeping in…
WELCOME TO JRDU
The Jagadguru Rambhadracharya Divyanga University was established to provide higher & professional education to persons with disabilities. There are approximate 9 crore disabled in India. The coverage in formal school system is around 5%. The scenario of higher education is much grim. The socio economic condition and facilities available at higher education centre for persons with disability are considered to be major obstacle in accessing higher education. Though there are various institutions and organizations to cater for some of the needs of disabled persons, activities of such institutions/organizations were found to be very-very limited.
History
HISTORY
In exercise of the power under UP Jagadguru Rambhadracharya Divyanga University UP ordinance no. 15 of 2001 read with section 10 sub clause 1, the Government of Uttar Pradesh is pleased to nominate Sri Raghveo Jagadguru Rambhadracharya Ji as life long Chancellor of this University on September 27, 2001.
The Honorable Chancellor of this University, Jagadguru Ramanandacharya Swami Rambhadracharya Ji, who himself is a blind person came forward with missionary zeal to established the University for persons with disability.
Opening of this University was the mission for Swami Ji. His second mission is to see it succeeding.
OBJECTIVES
.To ensure greater participation of disabled in higher & professional education by providing disabled friendly campus, class rooms and courses in order to prepare students of strong character enriched with traditional and modern knowledge.
· Provide boarding, lodging and essential requirements to disabled students to facilitate them for better accessibility in higher education.
· Explore suitable placement for the educated disabled graduates in public & private sector enterprises.
· To prepare Expertise/Manpower to cater the needs of disability sector.
· Promote disabled persons spiritually, socially and economically by providing suitable education to bring them to the main stream.
Management
Board Of Governors
Sri Raghvio Jagadguru Ramanandacharya Swami Rambhadracharya, Hon'ble Chancellor (Life Long)
Chairman
Secretary. Department of Handicapped Welfare, Govt. of Uttar Pradesh Bapu Bhawan,Vidhansabha Marg Lucknow
Member
Dr. Geeta Devi Tulasi Peeth Amodvan Chitrakoot (MP)
Member
Hemraj Singh Chaturvedi Rajmahal Nayagaon, Chitrakoot (MP)
Member
Prof. A.K. Sharma (UGC Nominee) C-3,Sector-48,Noida-201304
Member
Shri. Rajendra Goel Ghazibad,U.P.
Member
Prof. Yogesh Chandra Dubey The Vice Chancellor Jagadguru Rambhadracharya Handicapped University
Member Secretary
Borard of Management
Vice-Chancellor
Chairman
Director Higher Education, Govt. of Uttar Pradesh
Member
Two persons, nominated by the Jagadguru Rambhadracharya Sansthan: Dr. Ku. Geeta Devi, Social Worker Tulsi Peeth (kanch Mandir) Amoodvan Chitrakoot,Satna MP
Shri Hem Raj Chaturvedi RajMahal, Nayagaun,Chitrakoot Satna MP

Member


Member
Three Professors of the University,each from different disciplines,by rotation on the basis of seniority;




Member
One Professor from each faculty who shall be nominated by the Chancellor




Member
Secretary to the state Govenment in viklang Kalyan Department or His Nominee not below the rank of Joint Secretary to the state Govenment
Member
Registrar
Secretary
The Academic Councile
The Vice Chancellor · Prof. Y.C. Dubey
Chairman
The Deans of all Faculties of the university · Head & Dean Prof.Kamta Prasad Tripathi,Humanities Prof. Shiv Raj Singh Sengar,Education Prof. Indira Malhotra,Computer Science Prof. Rajiv Upadhyay,Managment J.R.H.University,Chitrakoot

Member
Two Professor of the University Nominated by the Chancellor ·

Member
Two Associative Professor of the University Nominated by the Chancellor ·
Member
Two Senior most Assistant Professor of the University ·Mr.Nihar Ranjan Mishra Faculity Of Education J.R.H.University,Chitrakoot Dr. Vinod Kumar Mishra J.R.H.University,Chitrakoot Faculity Of Sociology J.R.H.University,Chitrakoot ·
Member
Five person of academic eminence nominated by the Chancellor
Prof Rajendra Mishra Ex Vice Chancellor,Sampurnanand Sanskrit University Varansi,U.P.
Prof. Sankar Dayal Dwivedi Head,Department Of Sanskrit Allahabad University,Allahabad
Dr.Arvind Dixit Head,Department Of Chemistry B.S.S.D. College Kanpur,U.P.
Prof. Vikram Jeet Pandey Acharya Narendra Deo Krishi University Faizabad,U.P.
Dr. V.N. Mishra Head Department Of Neurology B.H.U. Varansi,U.P.



Member
Special Invitee Dr.Geeta Devi
Member
Registrar Prof. Girija Prasad Dubey
Member
Our Link
Founder and Chancellor
Brief Profile of Guruji
Date of Birth January 14, 1950 Makar Sankranti, Magh Krishna Ekadasi
Place of Birth Vill- Shandikhurd, Jaunpur (UP), Bharat
Family Parivrajak Vaisnav Sanyasi
Education MA (Acharya-Navya Vyakaran) Ph.D, D.Lit
Language(s) Sanskrit, Hindi, English. French. Indian Regional
Languages like- Bhojpuri, Maithily. Oria. Gujrati. Punjabi,
Marathi, Maghdhi, Awadhi, Braj etc.
Awards/Honors Received By JagadGuru Ji
2015
Padam Vibhusan
Presidant of India
2015
Yash Bharti
Chief Minister of UP
2004
President Award
Maharshi Badryan Puruskar
2001
Mahamahopadhyay
Lal Bahadur Shashri SanskritVidyapeeth, New Delhi
1998
Dharmachkrawarti
Parliament of Religion, Chicago
2003
Dewaliben Award
For Progress in Religion & Culture
2003

Ativishista Puruskar
UP Sanskrit Santhan
2003
Rajshekhar Samman
MP Sanskrit Academy
2002

Ravikul Ratna
Sampurnanand SanskritUniversity, Varanasi (UP)
2005

Sahitya Academy Award
New Delhi on BhargavRaghveeyam, A SanskritMahakavya
2006
Banbhatta Award
Sanskrit Board, Bhopal
2006

Shree Vani Alankaran
New Delhi
Book Published by Guru Ji
The versatile genius has granted us valuable literary gifts in both Sanskrit and Hindi. His original works have an important place in the different literary forms poetry, articles, essay, preaching and philosophy.
1. Mukundsmaran
2. Bharat Mahima
3. Manas Me Tapas Prasang
4. Param Barbhagi Jatau
5. Kaka Vidur
6. Maa Shabri
7. Janaki Kripa Kataksh
8. Sugreev ki kuchal Aur Vibhishan ki Kartoot
9. Arundhati (an epic in Hindi)
10. Raghav Geet Gunjan
11. Bhakti Geet Sudha
12. Tulsi Sahitya Me Krishna Katha
13. Shri Geeta Tatparya
14. Sanatan Dharm Vigrah – Swaroop Gau Mata
15. Manas Me Sumitra
16. Shri Ramanand Siddhant Chandrika
17. Shri Narad Bhakti Sutreshu Raghav Kripa Bhashyam
18. Shri Hanuman Chalisa
19. Prabhu kari Kripa Panwari Dinhi
20. Ashtadash Upnishad Bhasya
21. Shrimad Bhagawad Gita Bhasyam
22. Brahmsutra Bhasya
23. Azad Chandra Shekhar Charitam
Departments
Course Offered
JRDU provides 26 courses in different departments in fields of Languages , Sociology, Music, Psychology, Arts, History, Computers and many more.
Name of the Department
Courses
Department of Sanskrit
B.A., M.A.
Department of Hindi
B.A., M.A.
Department of English
B.A., M.A.
Department of Sociology
B.A., M.A.MSW (Master of Social Work)
Department of Psychology
B.A. M.A.
Department of Music
B.A., M.A.B.Mus. M.Mus.
Department of Drawing & Painting
B.A., M.A.
Department of Fine Arts
BFA (Bachelor of Fine Arts) ,
MFA (Master of Fine Arts)
Department of Special Education
B.Ed. HI (Hearing Impairment)
B.Ed. VI (Visual Impairment)
Department of Education
B.Ed. (Bachelor of Education)
M.Ed.(Master of Education)
Department of History, Culture & Archaeology
B.A., M.A.
Department of Computer & Information Sciences
MCA (Master of Computer Application)
BCA (Bachelor of Computer Application)
PGDIT (PG Diploma in Information Technology)
DIT (Diploma in Information Technology)
Department of Commerce & Management
BBA (Bachelor of Business Administration) ,
MBA (Master of Business Administration)
Department of Economics
B.A., M.A.
Department of Vocational Education
Diploma in Photography & Video Shooting
Diploma in Handmade Paper
Courses
Multiple Courses We Offer
OUR GALLERY
Glimpses of JRDU. Below are the view of JRDU University Campus.